As previously established, I am spectacularly cool, so I don't mind sharing that I sing the names of the American presidents to the tune of "Yankee Doodle," while I brush my daughter's teeth. Actually, when I started this ritual, I had to add all the presidents after Coolidge, and then still had a couple of lines of verse to go after Obama. To finish it off I sang, "Maybe if she had more time then next would be your Mama!" You should invite me to your next Fourth of July BBQ. I'm a riot.
In the early days of this routine, my daughter was still very young and mispronounced many words. A vocabulary staple was "bama" instead of bottom, as in, "sit on your bama," or "wipe your bama." When I got to "Obama" the first time, her eyes widened in delight and then she rolled over laughing. "Oh- BAMA?? Oh-bama?!"
But despite my ability to crank out the names of the presidents in chronological order, I realized my actual knowledge about those presidents was less impressive. Ever on alert for personal failings, I medicated my ignorance with a very fun binge of The Washington Post's Presidential podcast. Then to reinforce my newfound knowledge, I stocked up on the excellent books recommended in the podcast a bunch of children's literature featuring presidents.
If you're like me, and absolutely loyal to Lillian Cunningham, you will note that some of the following authors get it wrong. I found myself saying, "It was the contaminated water, not the long-winded speech in the rain!" or "His legacy is MUCH more complicated than that!" or simply, "But Lillian said!" Nevertheless, I took a breath, relaxed a bit, and found the following reads a joyful jaunt into our nation's history.
Happy reading! And don't forget to crank up the Hamilton soundtrack.
Susan Katz delivers delightfully silly poetry that even the most poetry-averse young patriot will enjoy.
David Small illustrated this one. That's all you need to know. (Okay, also the original version won the Caldecott.)
I have to say I'm always a little surprised when I pull out the dinner time books and my kids say, "The president book!" when I ask which book they want first. Lives of the Presidents provides a short bio (some very short, like Polk's or Fillmore's) for each president in chronological order. While the illustrations are cartoonish and really quite fun, the content itself is academic in format, but interesting and informative.
Thomas Jefferson Builds a Library will help any young book enthusiast find our third president a kindred spirit. Rosenstock does mention that Jefferson bought and sold people, though she doesn't emphasize the point. This can be a book that sparks a conversation about Jefferson's complicated and contradictory relationship with liberty, but it is not a book that explores his participation in slavery in depth.
In another picture book from Kathleen Krull, kids learn about President Lincoln's fondness for jokes, limericks, and the like. My son really enjoyed Lincoln's childhood poem, "Abraham Lincoln/his hand and pen/he will be good but/god knows When." This book manages to tackle a heavy time in our nations history in a lighthearted way that doesn't belittle the darkness of the time.
Those Rebels, John & Tom explores a complicated friendship, which I find to be very relatable for children, who are no strangers to friend drama. And if they can't get enough, try Worst of Friends, too.
Speaking of relatable, Don Brown presents Teddy Roosevelt's childhood, a story of grit and perseverance and enthusiasm sure to inspire any kiddo.
My kids loved Dream Big Dreams, a collection of photographs from Pete Souza, especially this one: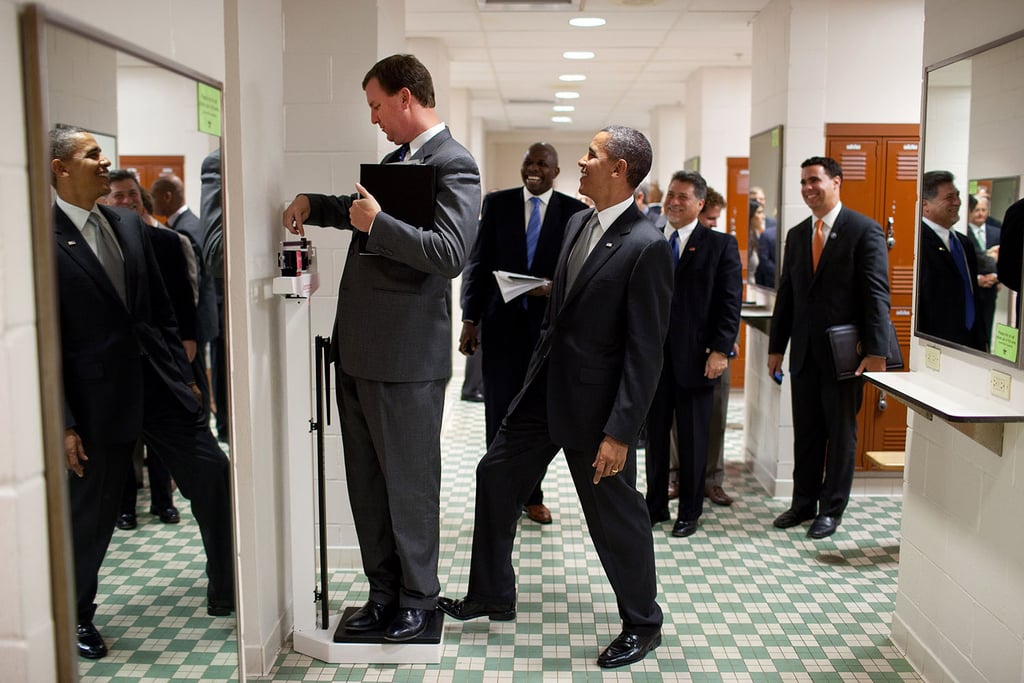 Grace for President because WHERE ARE THE GIRLS??
Madame President and John, Paul George & Ben are pure fun, two more Lane Smith treasures.
Gettysburg the Graphic Novel is worth it for the powerfully illustrated "Gettysburg Address" at the end alone. If the beginning is too slow for your kids, encourage them to skip ahead. Speaking of graphic novel histories, my kids have also enjoyed reading about American history via Nathan Hale's Hazardous Tales. I haven't read them, but I've seen my children disappear behind their covers for hours, so at the very least they are interesting.
For kid-pleasing independent reads about the American Revolution, check out the Magic Tree House #22 Revolutionary War on Wednesday or I Survived the American Revolution, 1776.
What Presidents Are Made Of is full of interesting portraits and fun facts. It's a quicker read than some of the others, so it's nice for the shorter attention spans of younger children.
And for the tiniest of readers, check out This Little President. So, yeah, they're mostly just going to be interested in the sounds of the rhyming text and the bright colors, but, hey, you can pretend they're little prodigies if you like.
Enjoy!